6.
---
Fidelio Ponce de León:
A Cuban Original
Monograph to be published by Cernuda Arte
Juan A. Martínez, Ph.D


Chapter 7


Interiority: The 1930s Paintings


In assessing an artist's work, a discussion of stylistic development is important to trace changes in the artworks and differentiate stages of their art: early from mature work, mature from late, when a particular subject matter begins or ends, possible connections between changes and events in their life and times, etc. Ponce signed and dated most of his paintings, at times more than once in the front and back of the canvas. However, his numbers are often hard to read. He liked to place his signature, F. Ponce, prominently on the canvas and do it with a certain calligraphic flair. The signature exudes confidence and importance. It can also help authenticate his paintings. Given the hard to read numbers under the signatures, the repetition of subjects, and the relative sameness of his mature style, it is difficult to trace Ponce's stylistic development or even create a complete timeline of his work.



1934-35


In 1934, Ponce went from a curious expressionistic painter to a highly original one, and from a legend to a known quantity. The transition in his style was quick and, as often happens, unexplainable. The recognition was due to the Lyceum solo exhibition in October 1934. During that critical year, Ponce defined his style and subject matter. Different from his contemporaries, his subjects do not represent the Cuban landscape or views of Havana, the Cuban peasant or Afro-Cuban culture, nor does it offer explicit social criticism. Poor families (La familia esta de duelo, La comunión) pious and bourgeoise women (Beatas, Dos mujeres), Christ figures (Cabeza de Cristo), and sickness (Tuberculosis) became his main subjects. Ponce expanded on these themes over the years, but not by much. He transformed 17th century Spanish painting subjects with his modern visual language. That visual language is characterized by impasto, often applied with his hands, dramatic chiaroscuro or expansive use of white, ethereal figures with vague faces, and airless spaces. The paintings are tactile, spontaneous, mostly monochromatic, and otherworldly. Ponce's style represents his and Cuba's contribution to international modern Expressionism. Although Modigliani and El Greco provided him with a point departure, his mature style is different from theirs. The closest resemblance to Ponce's style in global Modern Art is that of his contemporary, the Venezuelan painter Armando Reverón (1889-1954). They both made magic with white, but there end the similarities. Reverón painted mostly landscapes and nudes, while his exploration of light and form remained within the perimeter of Post-Impressionism. Ponce was an expressionist through and through.

The most perplexing stylistic development of 1934 is the abrupt change from dark to white paintings. He did canvases with strong contrast of light and dark, where shadows predominate. This was Ponce's version of the Baroque painting technique of tenebroso, favored in the School of Seville. Prime examples of his tenebroso paintings are La familia esta de luto (The Family is Mourning, 1934) and Beatas (Pious Women,1934). That year he also authored his first white paintings, such as Dos Mujeres (Two Women, 1934) and Tuberculosis (Tuberculosis, 1934). With few exceptions, like La primera comunión (The First Communion, 1935), white/light prevailed in his post-1934 paintings.

The tenebroso paintings are of unhappy families and pious women. They have a certain element of the bizarre. La familia esta de luto is one of Ponce's largest canvases to that date, approximately 3 by 4 feet. The family includes presumably the mother, towards the center and dressed in black, her seemingly four daughters, two of them children, and a strange character, who pokes his head from behind the mother, and wears a white pointy hat. This figure, like the odd toy carried by one of the children, is slanted in the opposite direction of the females and provides a formal and psychological counterpoint. He and the toy offer a peculiar comic relief to the enveloping gloomy mood of the painting. On the wall is a portrait of a man. Is he the deceased husband and reason for the mourning implied in the title? Below the portrait on the wall is a white bundle suggesting travel. Does it belong to the curious figure with a hat? Did he just return to join the family in mourning? Is he a kind of "prodigal son"? Is it a self-portrait? Ponce as the Lost Son?

The art historian Carmen Paula Bermúdez argues that the male figure wears a harlequin hat and that it is a self-portrait. Ponce makes an appearance in the painting humorously following Diego Velázquez's (1599-1660) self-portrait in Las Meninas, 1656 and Francisco Goya's (1746-1828) in The Family of Charles IV, 1800. Accordingly, Ponce as the harlequin plays a disruptive force, bringing a modern element to a traditional subject.

Family portraiture, derived from a combination of Dutch and Spanish Baroque traditions, was a favorite subject of Ponce early on in his trajectory. La comunión, another ambitious painting on the family theme, is sober, even "classical" in its composition compared with La familia. In the center Ponce painted a large and tactile female figure, dressed completely in white with a headscarf and cross on her chest. She has an inward expression. Two girls, also dressed in white, and a boy with a suit and beret, flank this mother figure. They form a loose central pyramid and are standing erect against a dark wall with a painting of Christ to the side. The contrast of white and black, light and dark, hope and doom is direct and stark.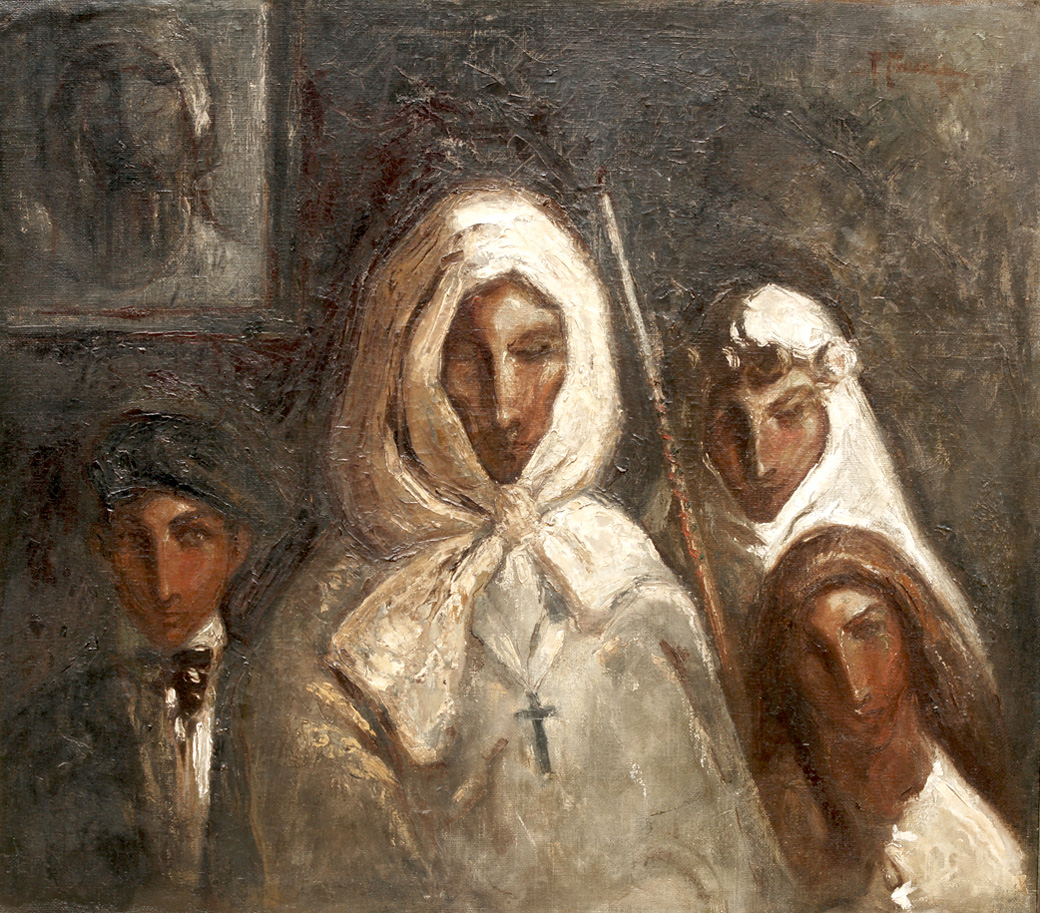 La primera comunión

(

The First Communion) 1935.

Col. Mr. and Mrs.Ramón & Nercys Cernuda, Miami


Many titles of modern paintings have changed over time. Original titles are forgotten, and new owners make new ones; at times gallery owners or the artist change titles to help make a sale. Ponce is no exception. La comunión may be such an example. The title is not altogether arbitrary because one of the young women wears a white dress, shawl, garland, and holds a ceremonial candle compatible with the vestments used in a first communion. However, if a first communion, the subject is far from straightforward. For one thing, the figure of the communicant is off to one side, rather than in the center as would be expected. This painting is also known as La familia vasca (The Basque Family). From that point of view, the composition represents a family: mother, children, and, like in La familia esta de duelo, no father, only a reproduction of a fatherly figure on the wall. The figure of the boy is dressed in a manner associated with persons of Spanish descent in Cuba, which suggest The Basque Family may be the supposed original title.

The figures in Beatas, like in La familia esta de duelo and La primera comunión, stand in a stuffy and dark interior space with a painting hanging on the wall. Again, it is an image of Christ. The three ghostly beatas or pious ladies seem like a bad omen. The left one is dressed in dark green wearing a hood and a prominent sash with the image of a saint on it. The other two are dressed in white with only their far away gaze and expressionless faces shown. These two figures are seen against an inexplicable shadow. Beatas is darker in palette and mood than most of Ponce's paintings. It is "black like the wings of a crow," as Ponce wrote in a 1934 letter quoted below. Are these pious women based on a memory of his aunts? They are the only pious women that are known to have had intimate contact with him.


Beatas

(

Pious Women

) 1934. Col. Museo Nacional de Bellas Artes, Cuba


In at least four letters typewritten on stationary from the clinic El Sagrado Corazón, Ponce unburdens his dark state of mind at the time. They are all addressed to Isabelita, whom he refers to as his adoptive mother, and one can be dated to October 1934. In them, he uses light and dark metaphors to express his depressed emotional state:


"…to eternally suffer the tricky blows of a dark fate, black like the wings of a crow."

"My sad existence is all shadow, pain and nostalgia."

"…beings predestinated by a black misfortune."'

"My days and my nights pass without color, nor brilliance, no sun and no moon."


These words accurately describe the mood of the works discussed above,

Ponce's pessimism must have grown in large part out of his extreme poverty and precarious existence. This situation was exacerbated by his contracting tuberculosis, which he most likely found at this time from Dr. Antonetti. Tuberculosis was rampant among poor people in the 1930s and he was one of its victims. He also came into contact with advanced tuberculosis patients while visiting the Calixto Garcia Hospital with Dr. Antonetti. No doubt both experiences stirred him to paint Tuberculosis.





Tuberculosis (Tuberculosis) 1934.

Col. Museo Nacional de Bellas Artes, Cuba


A little larger than La familia esta de duelo and executed as well in Dr. Antonetti's office, Tuberculosis offers a deep meditation on terminal illness and the implacable feeling of dying. The artist places the viewer on the patient's deathbed, looking up at spectral female figures, one touching a skull on the patient's night table. The skull, a memento mori or reminder of death, is part of a horrific still life with medicine bottles and syringes. The figure on the left is separated from the rest and her head dress suggests she is a nurse. The other figures probably represent his visiting family, most likely his wife and daughters. The central figure of a girl looking straight at the patient/viewer makes us particularly aware of her and of us looking back at her and the scene. The representation of a child witnessing a terrible sickness, possibly that of her father, suggests lost innocence. The figures and the curtained claustrophobic space are painted in shades of white with areas of blue shadows and delicate touches of green and red. The white, which in this case should symbolize hygiene, given the hospital setting, does not evoke cleanliness. The dirty white in this painting, which is densely applied, contributes to its dark mood.

In the context of European Modern Art, a source of reference for Ponce, Tuberculosis brings to mind the work of James Ensor's (1860-1949) and Edward Munch's (1863-1944). However, Ensor's representations of the memento mori motif of still life with skulls looks tame by comparison to Ponce's version of it, and the mood of Tuberculosis as a whole well surpasses in despair Munch's many renditions of the Sick Child, 1890s. Tuberculosis is one of the most poignant expressions ever of that terrible sickness in universal art.

Fortunately, there is an eyewitness testimony of the making of Tuberculosis, which reveals Ponce's untraditional method of painting. According to Dr. Antonetti, Ponce painted on the floor, which makes sense since the artist did not own an easel given his lack of studio or permanent place of residency. He would get on top of the painting and apply the paint with his fingers, the palm of his hand, and the handle of the brush. This intense involvement with the pigment is quite evident in the texture of the painting. Dr. Antonetti also mentioned that buried under the final image are two other versions, which accounts for its thick impasto. Then, "…after an intense instant of inspiring contemplation, he used his thumb to paint a wonderful eye." The eyes are often the most expressive feature of Ponce's faces, as is the case in this painting.

Tuberculosis has been widely exhibited in Cuba since 1935, and it is part of the collection of the Cuban National Museum of Fine Arts, where it is on permanent view. For some time, soon after it's making, the painting was on view at the waiting salon of Dr. Antonetti's medical office on the Prado Boulevard in Havana. There is a long Catholic tradition of placing art works representing the Crucifixion or Saints during their martyrdoms in hospitals and clinics. The idea is to provide sick patients with models of heroic strength, faith, and redemption in the face of pain and death. Tuberculosis placement in Dr. Antonetti's office for his patients to see falls more or less within that tradition. Except, that contrary to tradition, this painting does not offer release or redemption, only a dead end.

In contrast to the heavy atmosphere of Beatas and Tuberculosis, another major painting of 1934, Dos mujeres, radiates light. It shows two figures seated in front of a table with a vase holding a nondescript plant. They are seen leaning (as usual) against a blank light-filled background. These are fashionable bourgeoisie women, who seem transfixed by the strong light emanating from their heads. Their faces are lighter than the previously discussed paintings, if equally elongated with small tight-lipped mouth, long nose, and minute eyes. They wear red lipstick, have expressive eyes, seemingly painted with his finger, and show radiant hair dissolving into light. Ponce used white/light to a very different effect in Dos Mujeres. The various shades of pale white, activated by areas of cobalt blue, and touches of green and pink, give a radiant, rather than gloomy mood. The dematerializing light also gives the figures an unreal, spectral presence.





Dos Mujeres

(

Two Women

) 1934. Col. Museum of Modern Art, New York


In a letter to Alfred H. Barr dated February 1943, Ponce commented on this painting:

"This painting of mine represents two old blondes, who are like locks from the sun and have installed themselves in my canvas as their eternal dwelling. They are the women of my world who have the continual obsession that posterity knows their infinite purity and their lack of kinship with other painted females."

In his usual flowering language, Ponce returns to the theme of light and uniqueness of expression. His reference to "old," "women of my world," and "infinite purity" bring to mind the ants who raised him.

A painting of a Christ figure from 1934, Cabeza de Cristo (Head of Christ) represents an early example of a recurrent subject in Ponce's work. This one is a superb example of his use of earth tones fading into white to express another realm of existence. Painted in white and raw sienna, a silhouetted profile of Christ's face emerges from a faint landscape background. He faces a void of shadows ascending to light radiating from his head. In contrast with Beatas, this painting offers a more hopeful side of Catholicism, one in which light triumphs over darkness, spirit over dust.





Cabeza de Cristo (Head of Christ) 1934. Col. Museo Nacional de Bellas Artes, Cuba


Ponce exhibited thirteen paintings in his 1935 exhibition at the Lyceum, some of which date from that year. Of the ones known today, Retrato de Carlos Girón Cerna (Portrait of Carlos Girón Cerna), El baño (The Bath), Bodegón con flores (Still Life with Flowers), and Marina (Seascape) are outstanding examples of his work.

Ponce did numerous realistic portraits throughout his artistic trajectory, showing that he could paint in a traditionalist manner quite well. Did he learn such skills during his brief studies at San Alejandro under Leopoldo Romañach, or on his own? In any case, these portraits seem to have been commissioned, represented a sure way to make a few pesos, and were not the work he wanted to be known for. He also did a few portraits in his expressionist style and Retrato de Carlos Girón Cerna is an early example. He represented Girón Cerna as a heavy -set figure seated on his desk, arms folded, and lost in concentrated thought. His face and hands lack details, yet he is a force to be reckoned with. On his desk rests an elaborately designed object, which purpose is difficult to ascertain, yet appropriately echoes his overall body shape. The background is white and empty, with a couple of dark green forms at the edges suggesting plants. He wears a white shirt, which contrasts with his dark skin and grey-black hair; all with very subtle touches of red and green. Girón Cerna is represented as the thinker and intellectual that he was.

El baño is one of Ponce's few nudes and a rather large painting for him, three-and-one-half square feet. Two women are seen stepping out of the water, the latter barely suggested by four small and horizontal ultramarine brush strokes. The figure up front is followed by a smaller and younger one, who delicately holds her older companion by the arm, while looking at the viewer with blank eyes. The upper torso of the figures and the background is mostly rendered in white with parts of their bodies painted in burnt sienna and touches of red. The entire canvas is heavily impasto in dazzlingly brushed marks. Ponce's colleagues Carlos Enríquez and Víctor Manuel liked to paint nude or partially nude female couples, but El baño has nothing of the eroticism of the former or the melancholy of the latter. It is sensual in its materiality, in the application of the paint and its impasto, not the rendering of the flesh.


El baño

(

The

Bath) 1935. Col. Mr. and Mrs.Ramón & Nercys Cernuda, Miami


Still life painting is not a major theme in Cuban art, with the exception of the work of Gil García and Amelia Peláez. Ponce painted some, mostly in the 1940s. The most striking one is his earliest, Florero. It was originally titled Bodegón de flores in the Lyceum catalogue. The still life shows a one-legged round table holding two glass containers. Out of the smallest one, a single thin dark stem rises to end in an unidentifiable and ghostly white flower. Its companion is an empty long neck bottle. The still life sits against a white wall and it is framed by white curtains with some streaks of baby blue. The overall impression is a kind of ascetic beauty; it suggests the thin line between life and death, the spiritual and the material. Florero stands apart from the pretty floral arrangements seen in Gil Gárcia's paintings and the sensual beauty of Peláez's abstract and colorful hibiscus flowers.


Bodegón con flores

(Still Life with Flowers) 1935 Col. Mr. Sergio Delgado, Miami


It is difficult to know if Ponce kept up the production of 1934 and 1935, which consisted of at least twenty paintings, the total of his two solo exhibitions at the Lyceum. More importantly, most of the discussed paintings are among his most critically acclaimed. He did not have another one-person show with catalogue and list of works until 1939.



1936-37



One of the subjects that fascinated Ponce in the following years was the Gospel story On the Road to Emmaus. He painted it at least six times, if we include one titled Los tres Cristos (The Three Christ), which has the same composition as the others. The earliest is Los tres Cristos, 1936, followed by two Peregrinos de Emaús (The Pilgrims of Emmaus) done the same year, 1937. The next dated one is Los Discípulos de Emaús (The Disciples of Emmaus), 1941. An undated work also entitled Los Discípulos de Emaús was destroyed. The painting belonged to Dr. Mario Cárdenas Pupo and a photo of it appears in a 1953 article about doctors who befriended Ponce. Also undated is another Los díscipulos de Emaús (Collection unknown), which appeared in the cover of the Delphic Studios exhibition catalogue.


Something about Luke's (12:13-35) early part of the story captured Ponce's imagination.

Now that same day two of them were going to a village called Emmaus, about seven miles from Jerusalem. They were talking with each other about everything that had happened. As they talked and discussed these things with each other, Jesus himself came up and walked along with them; but they were kept from recognizing him.

He asked them, "What are you discussing together as you walk along?"

His versions of the subject show the characters standing, supposedly walking, on a desolate road. They are shown engaged in intense talking, gazing, and praying. Interestingly, Ponce did not choose the most familiar version of the subject depicted countless times in European art, when they are at an inn, seated at a table, and Christ reveals himself.

In Los tres Cristos, the figures are all in profile, but are shown in slightly different angles to show variation. The closest figure to the picture plane is seen in quiet contemplation or prayer, while the other two are shown conversing. Figures and landscape are thickly painted in white and burnt sienna, which gives the otherwise ethereal figures some substance and sensuality. The overall composition with its triangles, semicircles, and steady rhythm is tightly organized like those of Early Renaissance paintings. Its expressionistic impact lies in the chiaroscuro and impasto. The encounter of Christ with himself, or his followers suggests a subtle deep kinship.


Los

tres Cristos

(The Three Christ) 1936 Col. Mr. Sergio Delgado, Miami


Los peregrinos de Emaús in the Cuban National Museum is by contrast dramatic in the body language of the figures and the distortion of their proportions. The figure closer to the picture plane has a taut white tunic showing only his face and hands. His long neck is extended upwards with his face looking toward the sky, while his large hands are in praying mode. The center figure is shown in profile, speaking, and the third traveler turns his head towards the viewer. According to Luke, Christ does not reveal himself to these disciples until later in the story, when they are seated around dinner and "their eyes open and they recognized him." Ponce gave his own interpretation of the story suggesting that the disciples recognized him already on the road to Emmaus. This painting's pathos is on the level of Emil Nolde's (1867-1956) renowned paintings of the life of Christ from around 1910. In Cuba, there is nothing like it in its expressionist emotional charge until the paintings of Antonia Eiriz (1929-1995) in the 1960s.

The version of Los peregrinos de Emaús in the Church De la Merced in Havana is the largest, 39.5 x 56.1 inches. The full-length figures are seen apparently walking on an expansive and desolate landscape. The one closer to the viewer is seen in profile in quiet introspection. The middle figure acknowledges the viewer. The third is seen with arms in a praying pose. Impasto and chiaroscuro make the figures plausible. As in the case of the 1936 Los tres Cristos, the mood is restrained and meditative, with the possible exception of the disquieting stare given the viewer by the disciple standing in the center.


Peregrinos de Emaús (The Pilgrims of Emmaus)

1937. Col. Church De la Merced, La Habana


Compositionally Los Discípulos de Emaús, 1941, is a variation of the previous ones. The center figure turns to look at the viewer, while the two disciples at each end are shown in profile and with their mouth open, as if in conversation. The composition follows closer the earlier part of Luke's story, when Christ appears to them as they are lost in conversation and do not recognize him. The landscape section like that of the version at De la Merced is larger, giving more breathing room to the trio. Unique among the previous versions is the dominance of the earth tones over white, the intensity of the brush marks, and the wolf like treatment of the hair, which is not contained by a tunic. This painting well expresses the passage in which Luke says, "Were not our hearts burning within us while he talked with us on the road and opened the Scriptures to us?"



1938


Ponce continued to explore the age-old three figures composition and the journey theme in his best-known painting, Niños (Children), 1938. In it, three children are seen on a trail in a desolate landscape. Like On the Road to Emmaus' paintings, he placed the figures on the right side of the canvas, asymmetrically balanced by an empty, hazy landscape on the left. The children, dressed in long white robes, have stopped their walk and are looking in different directions at their deserted surroundings. Their only companion, a small dog, seems equally lost on a road to nowhere. The individual elements of white dress with delicate pink lace, a pet, landscape, and white light are all traditional symbols of childhood purity, beauty, and innocence. However, his version of this romantic conceit does not add up to a happy representation of children. They may represent innocence, but the mood is of solitude and sadness. The dramatic contrast of light and dark, the children's faces and body language, and the bleak landscape with its bent, dry branch up front, all contribute to an uneasy and melancholic feeling. This approximately three by four feet canvas won a purchase award in the 1938 Second National Exhibition of Painting and Sculpture.


Niños

(

Children

) 1938. Col. Museo Nacional de Bellas Artes, Cuba


Ponce did a second version of Niños, ca. 1939, which is practically a copy of the first with some important distinctions. He defined the figures, dog included, and the landscape more clearly and light dominates shadows. In this more descriptive version, the mood is lighter. In the second version the child closer to the picture plane has a darker skin than the other two, maybe alluding to Cuba's racial mix.

One more compelling representation of a child is Niña (Girl), 1937, which may be a study for Niños. The painting depicts a single child, probably a she, from the chest up. Her body is covered with a delicate dress and she wears a bonnet tied with a bow. It is painted in ivory, grey, burnt sienna, and touches of pink applied richly on the canvas. The child's shadowed face, her slightly curbed up small mouth, and pensive gaze expresses a deep sadness, even sickness. Ponce's representation of children in the 1930s communicates a unique combination of innocence, which one would expect, with disturbing somberness.

Besides Niños, two other significant paintings from 1938 are Katrina (mayo 25, 1938, written on the back of the canvas) and Novicia (Novice). They are of single female figures, but quite different in subject and expression. Katrina shows a seated woman facing a radiantly lit void. A plant next to her suggests that she may be sitting outdoors. The color scheme of green, ochre, burnt sienna, and a touch of pink, all fading into white towards the center is subtly theatrical. Dressed in a mantle that covers her entire body, except her hands, and wearing a pointed hat, Katrina exudes calm and quiet meditation. Figure and setting have the quality of a vision or dream, more than a representation from nature.

Novicia is one of Ponce's more radical monochrome paintings. It depicts a frontal, fully dressed female figure, whose costume and attributes suggest she is a nun. Her body is covered with a white cape and she wears a white head cap with a wreath. The only visible flesh is her expressionless almond shaped face painted in ochre. She seems frozen in time and space. In front of her are two books, one with a cross on the cover, and a glass with a long stem. The background is empty and of a different shade of white. The extensive use of pure white/light and the simplicity of the composition give the figure an ethereal, spiritual presence.

Novicia is a universal masterpiece of Catholic mystical iconography.


Novicia

(Novice) 1938. Col. Mr. Sergio Delgado, Miami




1939-40


Towards the end of the 1930s, Ponce painted his most eccentric work: San Ignacio de Loyola (St. Ignatius of Loyola), ca. 1938-40. The painting's first exhibition record is 300 Años de Arte en Cuba, 1940. Among the thousands of representations of the founder of the Society of Jesus, this is probably the most unique. The reason being that it does not follow the traditional poses of Saint Ignatius as visionary, or as a thinker or even the physical features of his portraits. Rather, it is loosely based on a few irreverent lines from the poem "Oficina y denuncia" by Federico García Lorca (1898-1936). It comes from his book Poeta en Nueva York, 1940:

"San Ignatius of Loyola

Killed a small rabbit

And still it's lips moan

In churches' towers"

Ponce represents Saint Ignatius standing tall, slightly tilted and stiff, with hands folded in front of his waist. He wears a black robe with a white stole and a three-pointed hat. Another figure also dressed in a black robe and severely slanted is seen disappearing at the bottom right of the painting. The figures have Ponce's generic faces, impassive and without detail, yet expressing a brooding mood. The most striking aspect of the painting is the still life next to the figure of St. Ignatius, at the level of his hands, showing a kneeling rabbit with a beautiful dagger stuck in its neck, bleeding. The background offers a desolate and mostly white landscape, with a few pathetic trees and a church in the distance. To represent the crying sound of the rabbit coming from the tower of the church, he painted three impasto lines next to St. Ignatius' ears. Ponce's interpretation of Lorca's lines is even more ingenious, imaginative, and insolent than the words.


San Ignacio de Loyola

(St.

Ignatius of Loyola)

ca. 1938-40. Col. Mr. and Mrs.Ramón & Nercys Cernuda, Miami


During the 1930s, Ponce took traditional subject matter, often from the Baroque period, and gave it a new life through his highly subjective imagination and modern irreverent attitude.



The Aesthetics of White


The salient visual aspect of Ponce's 1930s paintings, their allure, is the white impasto surface. Ponce's extensive use of white amounts to an aesthetic declaration of beauty based on the absence of color and the maximum use of light. Although the quality of his white paint is different from theirs, two pioneers of vanguard Modern Art, the Russians Kasimir Malevich (1879-1935) and Wasily Kandinsky (1866-1944), showed a great appreciation for the expressive potential of white. Malevich's white backgrounds in his paintings from c. 1914 to c. 1920 represented infinity, and his icon of twentieth century art, Suprematist Composition: White on White, 1918 asserted once and for all the expressive power of white. Kandinsky equally favored white backgrounds for his cosmic paintings of the Bauhaus period (1922-1933) and wrote on the subject a famous line, which Ponce seemed aware of, "White is a deep, absolute silence, full of possibility." About his White on White painting, Malevich wrote that it expressed the feeling of fading away, a statement that applies to some of Ponce's 1930s paintings, such as Christ, 1934; likewise Kandinsky's statement that white represents deep, absolute silence applies to some of Ponce's painting, like Novicia, 1938.

Through his handling of white/light, which for the most part obliterates the forms in his paintings, Ponce could express a range of deep emotions, from the haunting gloom of Tuberculosis, to the rapture of Díscipulos de Emáus, to the melancholy of Katrina, or the desolation/despair of St Ignatius of Loyola. He probably took refuge in white because it was the one pigment he could afford in the 1930s, it being the cheapest, and turned it into a huge asset by mastering its aesthetic potential to express interiority. Ponce's obsession with working from his inner life, often through the interpretation of Catholic subjects, found in white/light an ideal vehicle of signification.

The 1930s was a critical decade for Ponce. He went from an unknown figure to one of the leading modernist artists of his generation. He maintained a strong presence in Havana's main institutional group exhibitions, had three one-person shows, one in New York, and won two major purchase awards from the cultural branch of the Department of Education. More importantly, he developed a unique expressionism with its own distinct color scheme, subject matter, and mystical yet disconsolate vision of humanity. In my estimation, his 1930s paintings are his most original and came from deep within his inner life. In the next decade he opened somewhat to the outside world.